Description
The X Files Pinball Machine comes with Free Delivery and Installation (worth £150), has been fully restored and is in stunning condition.
The Twister Pinball Machine is manufactured by Sega, makers of some of the greatest pinball machines in history.
Based on the thrilling sci-fi TV series, The X-Files puts players into the role of one of the show's two FBI agents: Agent Mulder or Agent Scully as they investigate unsolved cases involving mysterious reports of paranormal activity. Initially spanning a run of 10 seasons, The X Files was one of the most popular and successful sci-fi series of all time, and now you can play your way through some of the show's greatest mysteries in pinball form!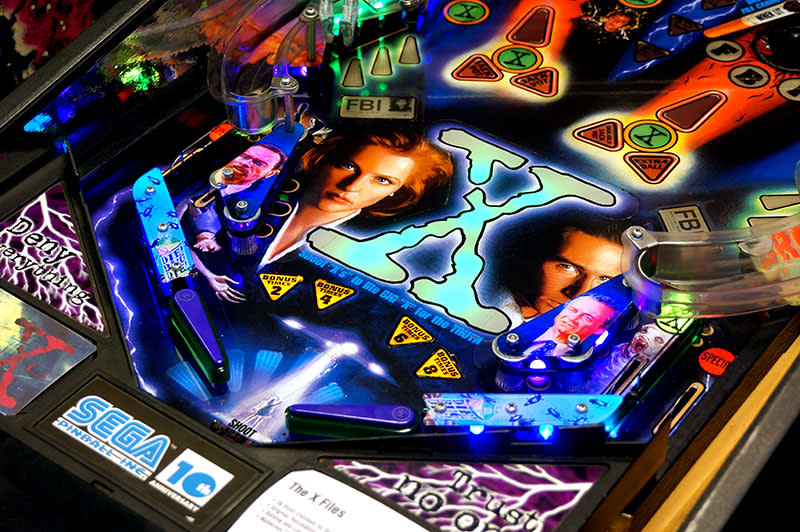 Features:
Motorised Filing Cabinet Toy and Magnet: The X Files Filing Cabinet sits in the centre of the playfield, and can move up and down. Shoot your ball through the top level to begin multiball, whilst watching out for the magnetic force that can hurl your ball back to your flippers!
FBI Trap Door: Begin missions by sending your ball into the secret trap door when open.
Playfield Figures: Numerous playfield figures are dotted around the playfield, including creatures from the show, and even an illuminated alien in a containment tank.
Find The Truth: Collect all the X lights on the game's playfield to begin 'Find the Truth' – An intense multiball round that has you searching for clues to uncover a secret message.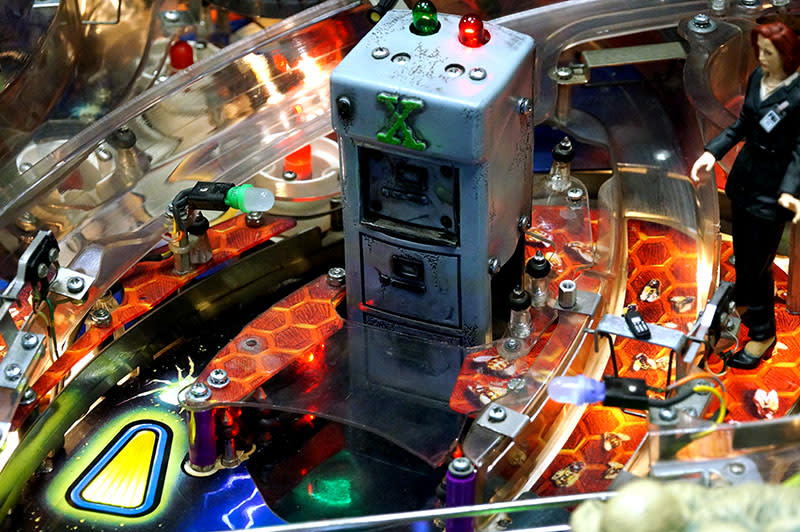 On Display in Our Showroom:
If you'd like to try out a classic pinball machine, we have a vast collection of over 15 different classic titles from various big pinball manufacturers like Bally, Williams and Data East on display in the showroom. All of these games are set up and set to free play for you to try for yourself. Even if we don't have the exact machine you're looking for, we can recommend other games that may play similarly.
We recommend phoning our showrooms ahead of your visit so we can give you a rundown of every machine we currently have on display to try.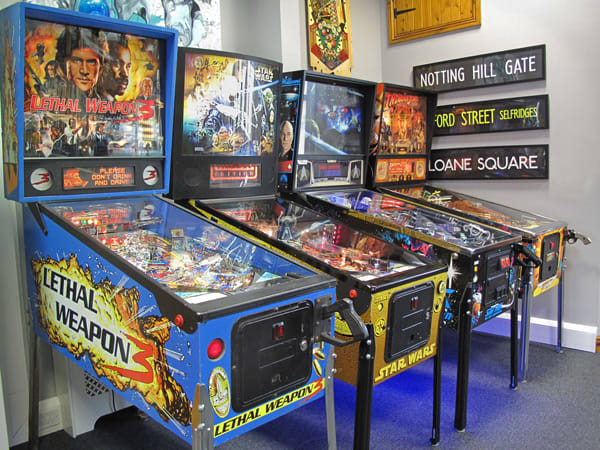 We are keen pinball enthusiasts and have experience of owning and playing a wide variety of pinball games. If you are looking for high quality impartial advice it is definitely worth paying us a visit. There's nothing like playing a few games to get a real appreciation of how good a game really is.
For more details see our Showroom page. For directions see our How to Find Us page.
Condition:
This pinball machine is in amazing condition, and has needed no major repairs or replacement parts. It has been fitted with an LED lighting kit, making it even more brilliant and bright, and new rubbers have been fitted to the flippers.
All our pinball machines go through a thorough inspection and reconditioning process, ensuring that they play perfectly with no errors. We will fit new balls and new rubbers where necessary. New decals and parts will be fitted where necessary. We will make cosmetic repairs if needed. We describe our pinball machines as being in excellent reconditioned condition. This is a vintage machine and can therefore carry some cosmetic imperfections.
Some machines we sell are fully restored, where we will fit new decals, new playfields, new parts such as ramps, and even upgrade certain items, such as the sound components. Where this type of reconditioning process has been undertaken we will make it absolutely clear that this is the case and the price will reflect the amount of time taken and costs incurred in this process.
Reconditioning and Servicing – 26 Point Checklist:
Buying a pinball can be a lot like buying a car: there can be problems underneath the bonnet that you wouldn't even know about, until they interrupt your fun!
It's worth noting that pinball machines are complicated in their workings. There are pitfalls to buying a second hand pinball machine elsewhere, and if you don't know what to look for, you can have an incomplete machine running at less than its potential. Furthermore, you could purchase a machine that is 20-30 years old and has a serious electrical fault.
However, every machine that comes through our doors undergoes an extensive 26-point check with our trained engineer. This service is exclusive to every pinball we sell at Home Leisure Direct. All machines undergo a full PAT test by a fully qualified engineer to eliminate any risk. We also check everything including the lighting, coils, flippers, full mechanics, electronics and everything else in between. These checks ensure that all components are rigorously tested and working.
This even includes cosmetic touch ups and a full wax clean. We complete this 26-point check to ensure your new pinball machine is in tip-top working order and ready to spend a new life with its new owner.
LED Upgrades
Being a classic pinball machine, this game as standard uses filament bulbs for all of its lighting for general illumination, inserts and the backbox, but did you know that an LED upgrade can completely transform the way your game looks and operates?
For an additional fee, we can replace every single incandescent filament bulb in the game with beautifully bright LED bulbs to make your pinball machine shine, and truly stand out in your games room. An LED upgrade won't just make your machine look dazzling, and make viewing your playfield easier but also improve the way it operates too, generating less heat, consuming less electricity and ultimately lasting for longer.
Ask our team about LED upgrades when enquiring to find out more, or read up in our buying advice guide on LED upgrades.
Pinball Table Measurements:
| | |
| --- | --- |
| Dimensions | |
| Height: | 78″ |
| Width: | 27″ |
| Length: | 52″ |
| Weight: | 128kg |
Please ensure you fully check that a pinball of this size will fit into your intended location and that it will fit through your doorways and corridors to reach your intended destination.
Some doorways are too narrow to fit a standard backbox through, where this is an issue, we can supply an engineer to remove the backbox and re-fit it when the machine is in place in its intended location. We can quote for this service on an individual basis depending on the distance from Bristol.
Coin Mechanism:
We sell our restored, reconditioned and used products to home users. As a result, a functioning coin mechanism is not necessary, because the machine can just be set to freeplay. Many of the coin mechanisms are configured to take foreign coins or denominations which are no longer in circulation; therefore it can be difficult to actually find a coin to use in it.
Therefore we sell all these types of products as freeplay only, with the coin mechanism either not working or disconnected. You may find that it does in fact work fine, or will do so with a little WD40 and kind attention, as many won't have been used for years.
Warranty:
Home Use:
This pinball machine comes with a 1 year parts warranty. All parts that are faulty will be replaced. Often we can solve any problems over the phone and supply any necessary components for the customer to fit. If necessary our specialist repairer can visit your home to inspect and repair your machine on-site, but this would be chargeable. Please call us for a call-out quotation. If parts are required which are not carried at the time these will need to be ordered for you, and will sometimes need to be imported from the States – therefore, there can be a wait for the part to arrive.
After our 1 year warranty has expired we will continue to offer you complete support for any problems you have, either over the phone or by email, and can provide a chargeable engineer call out should it be required. Whatever happens, we will be able to look after you and your pinball machine.
Pinball machines are complicated items, which don't like being moved about, nor do they like the cold or humidity. Therefore, if you chose to move the pinball machine from where we originally installed it, or it is stored in a cold or damp location, our warranty will become null and void. We won't be able to supply any parts for your machine free of charge if it has been accidentally damaged or you have tampered with it in any way.
Commercial Use:
Where a used/secondhand/reconditioned item is not being used in a home, but is instead being placed in a commercial location such as a bar, pub, cafe, restaurant, bowling alley, trampoline park, youth club, office, factory, or similar, we will offer a 30 day on-site service warranty should any problems occur which are not a result of any misuse or malicious damage. This warranty will cover parts and labour.