Description
Star Trek Pinball Machine Pro
The Stern Star Trek Pro Pinball Machine comes with free delivery, and we have the lowest price for the Official UK version.
Boldly going where no pinball machine has gone before, Star Trek is one of the world's most watched and iconic sci-fi adventures, following the voyages and conflicts of the crew aboard the starship USS Enterprise. This machine takes its inspiration from the more recent Star Trek series of films, distributed by Paramount Pictures.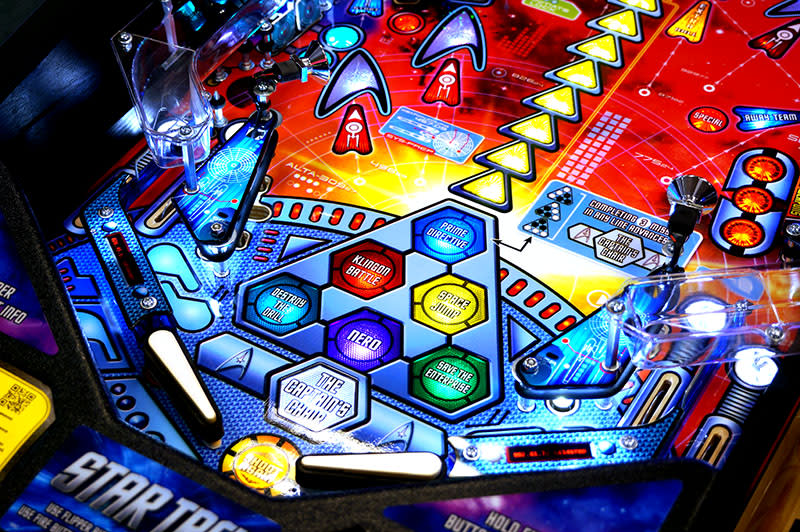 Players must embark on a variety of different missions throughout space and get involved with several intergalactic conflicts in their mission to explore the galaxy.
Players will do battle with the mighty Klingon empire, engage in a number of different missions from the recent Star Trek movies and even engage the formidable USS Vengeance.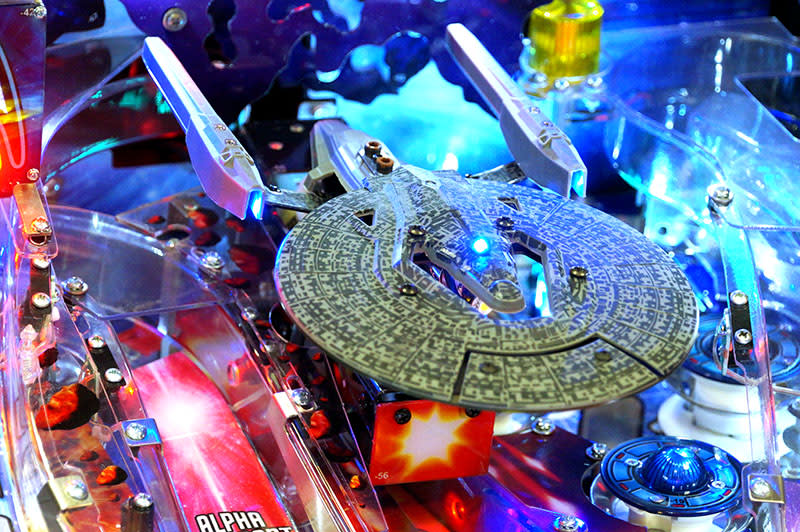 Stern Star Trek Pro Key Features:
"USS Vengeance" custom-moulded animated ship model
Single drop target protects "USS Vengeance" with memory and reset
Magnetic Ball Lock behind single "USS Vengeance" Drop Target can hold multiple balls
"USS Vengeance" disintegrator, super-speed ball kicker protects ship and fires balls
All-LED playfield, G.I. and control lamps
7 tri-coloured LED Star Trek shield emblem custom moulded inserts
LED flashers throughout playfield
3 flippers – 1 left, 2 right
18-mission game progression
Captain's Chair wizard modes
Fire button and laser-cut fire button plate, powder coated in Starfleet Blue
Phaser and photon torpedo feature controlled by top-mounted fire button
Super flash spinning target with holographic motion
5 x 1/2″ stand-up targets
8 x 1″ stand-up targets
1 x 1.5″ stand-up target
Stainless steel shooter lane ramp
2 wide entrance combo ramps
Warp feedback ramp fed by 3rd flipper
Left eject kicker lock
3 high-speed pop bumpers
2 high-powered slingshot mechanisms
2 electric gates in orbit lanes
Shot behind upper right flipper to shooter lane
8 Opto sets for reliable ramp and magnet switching
Star Trek "Starfleet" Pro Translite backglass
New powder-coated steel and plywood backbox with 2-bold quick assembly and security
Dual latch lockdown bar
Unique Star Trek "Starfleet" pro hi-definition themed cabinet artwork
Black ABS plastic bottom arch
Comes with 4 pinballs
Traditional coin door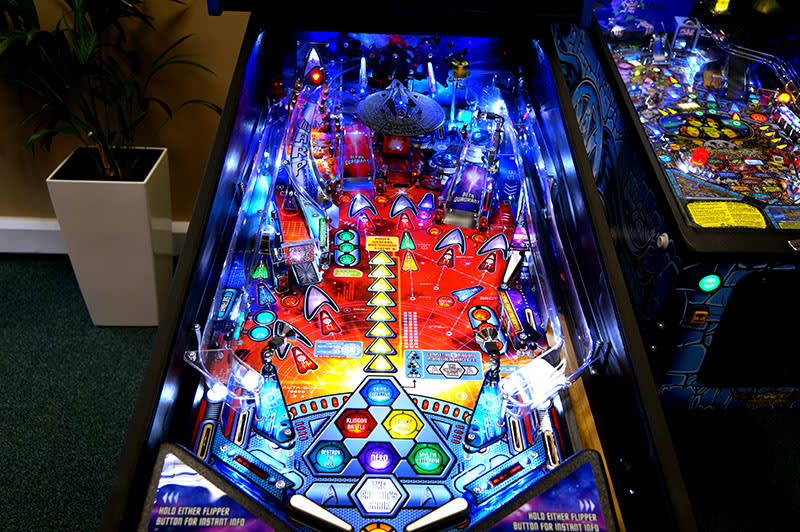 On Display in Our Showroom: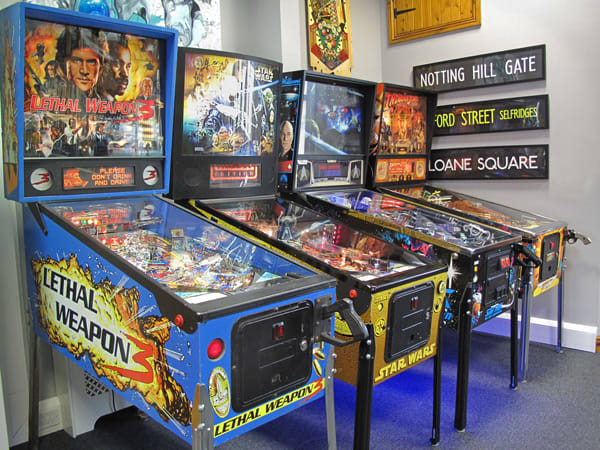 If you fancy checking out a new pinball machine, we have a fantastic selection on display in our showroom, set to free play, so you can enjoy a few games to get a feel for them for yourself.
Even if we don't have the exact game you are looking for set up in the showroom, we can talk you through all the options available to you, whether you're a pinball fanatic or looking for that single table to kickstart your own collection.
We recommend phoning our showrooms ahead of your visit so we can give you a rundown of every machine we currently have on display to try.
We are keen pinball enthusiasts and have experience of owning and playing a wide variety of pinball games. If you are looking for high quality impartial advice it is definitely worth paying us a visit. There's nothing like playing a few games to get a real appreciation of how good a game really is.
For more details see our Showroom page. For directions see our How to Find Us page.
Condition:
This pinball machine was only released in recent years, and as a result looks practically fresh from the box with minimal playfield and cabinet wear. There is a little cosmetic imperfection to the powder coated metal surrounding the 'Punch It' button, however (pictured)
All our pinball machines go through a thorough inspection and reconditioning process, ensuring that they play perfectly with no errors. We will fit new balls and new rubbers where necessary. New decals and parts will be fitted where necessary. We will make cosmetic repairs if needed. We describe our pinball machines as being in excellent reconditioned condition.
Reconditioning and Servicing – 26 Point Checklist:
Buying a pinball can be a lot like buying a car: there can be problems underneath the bonnet that you wouldn't even know about, until they interrupt your fun!
It's worth noting that pinball machines are complicated in their workings. There are pitfalls to buying a second hand pinball machine elsewhere, and if you don't know what to look for, you can have an incomplete machine running at less than its potential. Furthermore, you could purchase a machine that is 20-30 years old and has a serious electrical fault.
However, every machine that comes through our doors undergoes an extensive 26-point check with our trained engineer. This service is exclusive to every pinball we sell at Home Leisure Direct. All machines undergo a full PAT test by a fully qualified engineer to eliminate any risk. We also check everything including the lighting, coils, flippers, full mechanics, electronics and everything else in between. These checks ensure that all components are rigorously tested and working.
This even includes cosmetic touch ups and a full wax clean. We complete this 26-point check to ensure your new pinball machine is in tip-top working order and ready to spend a new life with its new owner.
Stern Star Trek Pro Measurements:
| | |
| --- | --- |
| Dimensions | |
| Height: | 76″ |
| Width: | 27″ |
| Length: | 55″ |
| Weight: | 285lbs |
Please ensure you fully check that a pinball of this size will fit into your intended location.
About Stern Pinball:
Stern Pinball, Inc. ("SPI") designs and manufactures arcade-quality pinball games.  It is the biggest maker of arcade-quality pinball games in the world and is located just outside Chicago, Illinois.
The company traces its lineage to Philadelphia in the 1930's when Sam Stern got into the business of operating pinball games.  These new games were all the rage in bars and restaurants, and game operators were making a very good living.  Sam became so successful as an operator that he soon became a game distributor as well.
In 1947, Sam visited Williams Manufacturing Company in Chicago where, according to pinball industry folklore, he brazenly put his feet up on Harry Williams' desk and asked, "Why don't you sell me your company?"  Because of Sam's success as an operator and distributor, it took Harry only three hours to decide to sell half of the company to Sam.
Sam moved to Chicago and became President of Williams.  Through the '50's and '60's, he and Harry worked tirelessly to build Williams into one of the leaders in the burgeoning pinball industry.
Sam passed his passion for pinball on to his son, Gary, who as a child played in empty game boxes on the factory floor at Williams.  Gary was only 16 years old in the 1960's when he started working for his father in the stock room at Williams.
The late '70's and early '80s saw the emergence of coin-operated video games.  As the coin-op market evolved, other companies acquired many of the existing pinball companies.  In 1986, after the death of his father, Gary founded Data East Pinball, which was purchased by Sega in 1994 and became Sega Pinball.   In 1999, Gary bought the business back from Sega and renamed it Stern Pinball, Inc.  Less than a month later, Williams announced plans to cease pinball production in order to focus on the slot machine business.
Through the first decade of the new millennium, SPI has continued to carry the pinball banner and promote the game throughout the world.  The company has released many popular games, including Pirates of the Caribbean, Indiana Jones, Shrek, Batman, Spiderman, the Simpsons Pinball Party and many more. Its games continue to be enjoyed by both pinball enthusiasts and casual players around the world.