Description
The King-Pin Virtual Pinball Machine comes with Free Delivery (worth £150), plus we have the lowest UK price.
The King-Pin Virtual Pinball Machine is a pinball enthusiast's dream machine, combining the convenience of digital pinball with the incomparable feel of a real pinball table. For players who want a variety of tables but don't have the space, or simply for anyone who wants to be able to play any digital pinball table on a real pinball, the King-Pin offers an unparalleled experience. Simply turn on the machine, choose your game using the flippers and you're ready to start playing!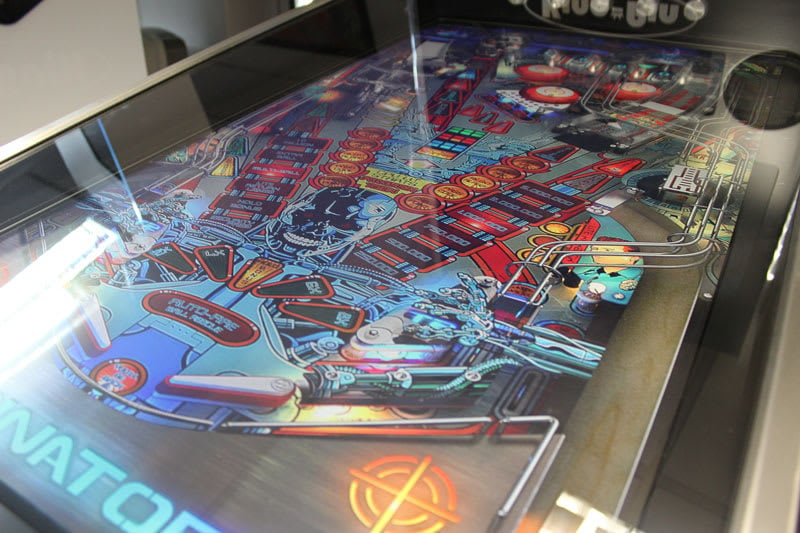 Hand-built by UK craftsmen to the highest standards, every King-Pin is made by true enthusiasts and their love of pinball is apparent in every part of the experience. The King-Pin uses only genuine pinball parts (including a genuine pinball coin door) and a wide body to give the authentic look and feel that you would expect from a great pinball machine.
The King-Pin is manufactured using some of the most stunning technology, not the least of which is the 43-inch playfield screen. The low response time and vivid display options mean you'll probably forget you're not looking at a real ball on the playfield, and the 28″ back-glass makes the King-Pin a truly beautiful machine. Every element from original tables is replicated, down to the simulated glow of the bulbs and all game events.
Also included is a 14.9″ DMD score screen, looking just as beautiful as you'd expect. Traditional score fields and on-screen minigames add to the immersion.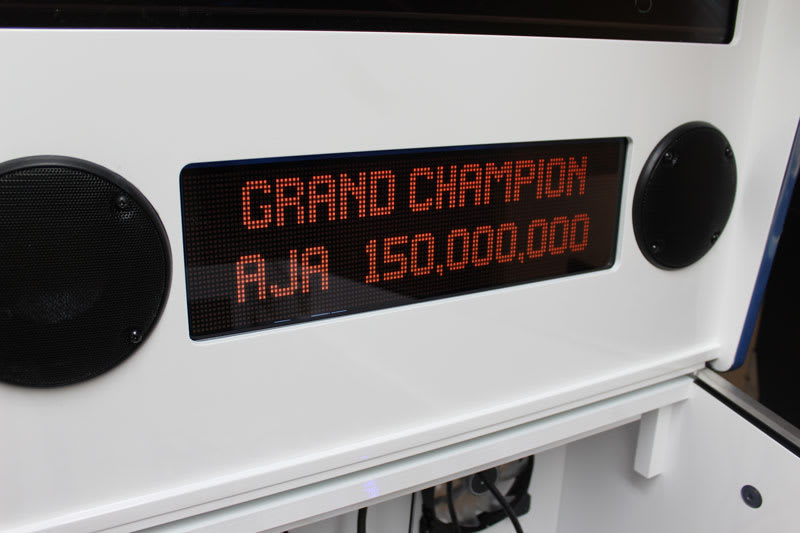 All of this would be worthless without the games to back it up, but the King-Pin comes with a plethora of games to keep you going for a very long time. For starters, more than 50 Pinball FX2 tables are ready to play from the get-go, and every King-Pin is supplied with a Steam account for digital gaming, along with gift card funds tied into the King-Pin for future purchases. The King-Pin can also be made to be compatible with The Pinball Arcade range, which includes Attack from Mars, Medieval Madness, The Addams Family and many more. Visual Pinball and Future Pinball are also able to run, so your list of options is huge.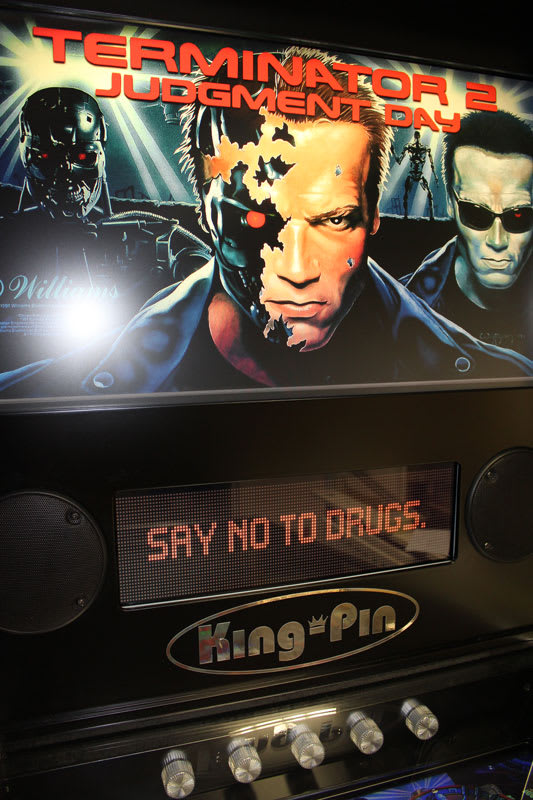 The King-Pin is no slouch on the technology front; it features a great i3 Dual Core PC, with 2TB of hard drive space for downloading and storing all your tables. It also has a number of external USB ports that allow you to plug in any required devices, and a built in Wi-Fi card, allowing you to add more tables easily, and also allowing us to assist you remotely should you wish to modify any settings once you have your machine.
The sound is simply stunning, piped through 2 front speakers and an internal woofer. Finally, a wireless mouse and keyboard are also included to help you to navigate your system with ease.
Hand-built in the UK:
King-Pin Virtual Pinball Machines are hand-built in the UK. This ensures that they are made to the highest quality, using high-grade components, and comply with all necessary UK legislation and carry a CE mark.
Hand-built in the UK
High quality components
UK power supply
CE mark
UK-based after-sales customer service provided by the manufacturers themselves
Key Features:
Beautifully handcrafted King-Pin chassis
Authentic pinball cabinet parts
Stunning 43" playfield screen
Fully animated 28″ back glass screen
Full colour 14.9" DMD score screen
Optimised for use with many pinball platforms
Authentic-feel flipper effects
Force feedback with 2 vibration points
STEAM gift card for compatible tables
Intel Core i3 PC with 2TB hard disk
Wi-Fi enabled with 2 external USB ports
Genuine pinball coin door (for authenticity)
Logitech K400 keyboard/mouse
Pre-installed menu system for easy table management
Full 2.1 speaker system
Customisation Options:
Your King-Pin Virtual Pinball Machine can be customised to your specification in a variety of ways. Please contact us for details and prices if you wish to give your machine a personal touch or give it non-standard options. You can choose from:
Finish:
The King-Pin is available in a variety of finishes. You can select from:
Black
White
Custom Colour Satin Finish (at extra cost)
Real Wood Veneer Finish (at extra cost)
Quad Polished High Shine Finish (at extra cost)
Powder Coated Legs, Side Rails, Lockdown Bar and Back Hinges (at extra cost)
Any of the extra cost options can be supplied in your choice of colour. If you select one of these options, one of our sales team will contact you to discuss your colour requirements.
Graphics:
The King-Pin comes as standard with the King-Pin logo graphic emblazoned on it. However, for incredible personalisation you can instead choose:
Set Full Graphics: Print and application of 2 sides, front and backbox graphics
Fully Custom Full Graphics: Design, print and application of 2 sides, front and backbox graphics
If you choose either of the above options, one of our sales team will contact you to discuss your graphic requirements.
Control Options:
The King-Pin can be supplied with a Pinball Plunger Kit – an original electronic pinball launch plunger for extra authenticity.
3D Option:
The King-Pin can be fitted with an incredible 3D playfield kit, which uses the Kinect head-tracking to give a full 3D effect without needing 3D glasses.
EX Options:
The below options are included as standard on the King-Pin EX Virtual Pinball Machine, but can be added to the standard King-Pin if you wish (at extra cost).
RGB LED Kit: A colour-changing responsive light show, with 5 super-bright LEDs and RGB buttons
Full Vibration Kit: 8 extra contactors, a control board and motor provide an even more authentic feel
PC Power Upgrade: Enhanced PC and graphics power allow even better pinball action
BOSE Speaker Upgrade: The on-board speakers can be upgraded to BOSE for incredible sound
Nudge/Tilt Controller Board: See the ball move if you knock or bump the table, for true authenticity
Included Tables
The King-Pin cabinet includes a Steam voucher which allows you to purchase a range of tables from the critically acclaimed Pinball Arcade – the incredible pinball simulation software produced by Farsight Studios that recreates pinball playfields down to the smallest detail, and perfectly emulates the game's original code. At the time of writing, there are over 80 unique recreations of incredible pinball machines, including the following timeless classics:
The Addams Family
Attack From Mars
Medieval Madness
Monster Bash
Cirqus Voltaire
Cactus Canyon
Pin-Bot
Centaur
Doctor Who
Terminator 2
The Twilight Zone
Safecracker
Funhouse
Theatre of Magic
And many, many more.
The full list of tables can be seen here.
In addition to the tables available on the Pinball Arcade, the cabinet is also compatible with both Future Pinball tables, and Visual Pinball tables.
Warranty:
The King-Pin comes with a full 90 day UK on-site warranty, and 9 months back-to-base thereafter, covering parts and labour, should anything go wrong with your machine.