Description
The Iron Man Vault Edition Pinball Machine comes with Free Delivery and Installation (worth £150), plus we have the lowest UK price.
The Iron Man Vault Edition Pinball Machine is manufactured by Stern, makers of some of the greatest pinball machines in history.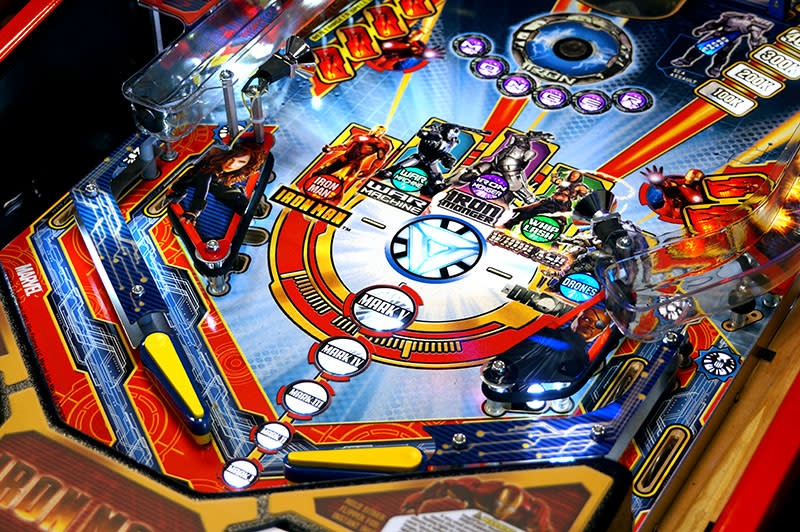 This fantastic machine will make a great addition to any pinball arcade or collection. The original Iron Man pinball machine (made in 2010) is one of the rarest pinballs in the country, as only around 8-10 of these amazing machines made it to the UK. This outstanding remake features a full LED playfield lighting system, a completely redesigned metal and laminate red-trimmed backbox, and metallic high-resolution cabinet art.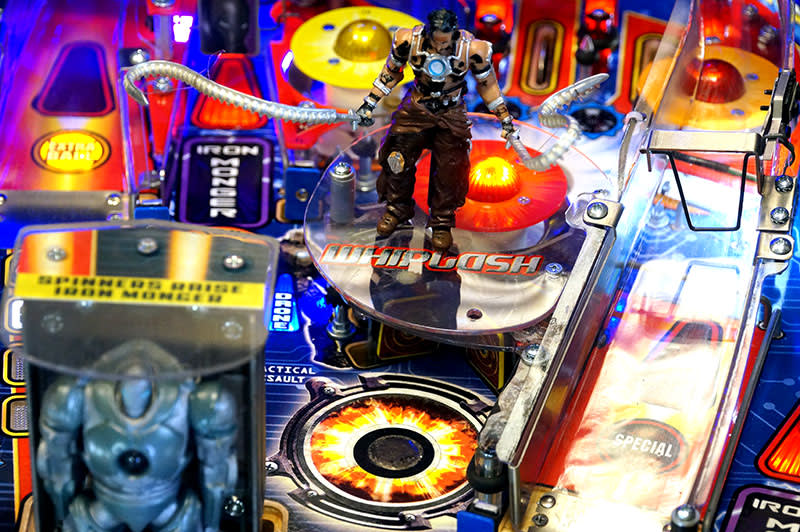 Due to its brilliantly fast gameplay, Iron Man is fast becoming one of the most sought-after machines on the market. Based on the popular film franchise, you play as Tony Stark and your objective is to beat all of the villains. The brand new Vault Edition is bound to be just as popular as the original 2010 machine thanks to its improved features and cabinet.
With brilliant features such as the Whiplash magnet and the Iron Monger bash toy which rises out of the playfield, this really is an incredible pinball machine.
Features:
New vivid and reliable 100% LED playfield lighting system
Red back-box trim.
Custom red cabinet armour trim.
Whiplash Magnet – Whiplash snatches your ball, before sending it random directions off of his own playfield magnet.
Iron Monger bash toy – The large Iron Monger rises from the playfield, and whips your shots in random directions with its own playfield magnet.
War Machine – Shoot your ball to War Machine and watch your ball return to you as it's fired back with incredible speed.
Fully licensed Iron Man product featuring a plethora of Marvel Comics characters
On Display in Our Showroom:
If you'd like to try out a classic pinball machine, we have a vast collection of over 15 different classic titles from various big pinball manufacturers like Bally, Williams and Data East on display in the showroom. All of these games are set up and set to free play for you to try for yourself. Even if we don't have the exact machine you're looking for, we can recommend other games that may play similarly.
We recommend phoning our showrooms ahead of your visit so we can give you a rundown of every machine we currently have on display to try.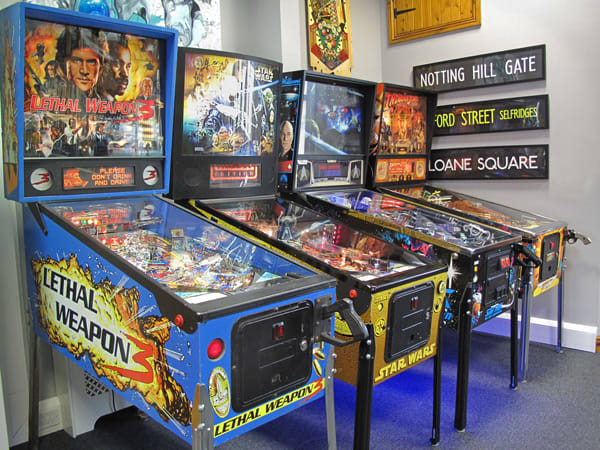 We are keen pinball enthusiasts and have experience of owning and playing a wide variety of pinball games. If you are looking for high quality impartial advice it is definitely worth paying us a visit. There's nothing like playing a few games to get a real appreciation of how good a game really is.
For more details see our Showroom page. For directions see our How to Find Us page.
Reconditioning and Servicing – 26 Point Checklist:
Buying a pinball can be a lot like buying a car: there can be problems underneath the bonnet that you wouldn't even know about, until they interrupt your fun!
It's worth noting that pinball machines are complicated in their workings. There are pitfalls to buying a second hand pinball machine elsewhere, and if you don't know what to look for, you can have an incomplete machine running at less than its potential. Furthermore, you could purchase a machine that is 20-30 years old and has a serious electrical fault.
However, every machine that comes through our doors undergoes an extensive 26-point check with our trained engineer. This service is exclusive to every pinball we sell at Home Leisure Direct. All machines undergo a full PAT test by a fully qualified engineer to eliminate any risk. We also check everything including the lighting, coils, flippers, full mechanics, electronics and everything else in between. These checks ensure that all components are rigorously tested and working.
This even includes cosmetic touch ups and a full wax clean. We complete this 26-point check to ensure your new pinball machine is in tip-top working order and ready to spend a new life with its new owner.
Iron Man Vault Edition Table Measurements:
| | |
| --- | --- |
| Dimensions | |
| Height: | 75 1/2″ |
| Width: | 28″ |
| Depth: | 55″ |
| Weight: | 113kg |
Please ensure you fully check that a pinball of this size will fit into your intended location.
About Stern Pinball:
Stern Pinball, Inc. ("SPI") designs and manufactures arcade-quality pinball games.  It is the only maker of arcade-quality pinball games in the world and is located just outside Chicago, Illinois.
The company traces its lineage to Philadelphia in the 1930's when Sam Stern got into the business of operating pinball games.  These new games were all the rage in bars and restaurants, and game operators were making a very good living.  Sam became so successful as an operator that he soon became a game distributor as well.
In 1947, Sam visited Williams Manufacturing Company in Chicago where, according to pinball industry folklore, he brazenly put his feet up on Harry Williams' desk and asked, "Why don't you sell me your company?"  Because of Sam's success as an operator and distributor, it took Harry only three hours to decide to sell half of the company to Sam.
Sam moved to Chicago and became President of Williams.  Through the '50's and '60's, he and Harry worked tirelessly to build Williams into one of the leaders in the burgeoning pinball industry.
Sam passed his passion for pinball on to his son, Gary, who as a child played in empty game boxes on the factory floor at Williams.  Gary was only 16 years old in the 1960's when he started working for his father in the stock room at Williams.
The late '70's and early '80s saw the emergence of coin-operated video games.  As the coin-op market evolved, other companies acquired many of the existing pinball companies.  In 1986, after the death of his father, Gary founded Data East Pinball, which was purchased by Sega in 1994 and became Sega Pinball.   In 1999, Gary bought the business back from Sega and renamed it Stern Pinball, Inc.  Less than a month later, Williams announced plans to cease pinball production in order to focus on the slot machine business.
Through the first decade of the new millennium, SPI has continued to carry the pinball banner and promote the game throughout the world.  The company has released many popular games, including Pirates of the Caribbean, Indiana Jones, Shrek, Batman, Spiderman, the Simpsons Pinball Party and many more. Its games continue to be enjoyed by both pinball enthusiasts and casual players around the world.
Warranty:
Home Use:
This pinball machine comes with a 1 year parts warranty. All parts that are faulty will be replaced. Often we can solve any problems over the phone and supply any necessary components for the customer to fit. If necessary our specialist repairer can visit your home to inspect and repair your machine on-site, but this would be chargeable. Please call us for a call-out quotation. If parts are required which are not carried at the time these will need to be ordered for you, and will sometimes need to be imported from the States – therefore, there can be a wait for the part to arrive.
After our 1 year warranty has expired we will continue to offer you complete support for any problems you have, either over the phone or by email, and can provide a chargeable engineer call out should it be required. Whatever happens, we will be able to look after you and your pinball machine.
Pinball machines are complicated items, which don't like being moved about, nor do they like the cold or humidity. Therefore, if you chose to move the pinball machine from where we originally installed it, or it is stored in a cold or damp location, our warranty will become null and void. We won't be able to supply any parts for your machine free of charge if it has been accidentally damaged or you have tampered with it in any way.
Commercial Use:
Where a used/secondhand/reconditioned item is not being used in a home, but is instead being placed in a commercial location such as a bar, pub, cafe, restaurant, bowling alley, trampoline park, youth club, office, factory, or similar, we will offer a 30 day on-site service warranty should any problems occur which are not a result of any misuse or malicious damage. This warranty will cover parts and labour.