Description
The Stern Guardians of the Galaxy Pro Pinball Machine comes with free delivery, 2 year warranty and we have the lowest price for the Official UK version.
Stern Pinball brings the exciting story of the Guardians of the Galaxy to a pinball table filled with features and varied play styles, making this one of the most stylish and attractive pinballs ever made.
The game will immerse players in a dynamic, challenging, and galactic pinball environment where Star-Lord, Rocket, Gamora, Drax the Destroyer, and Groot battle Ronan to stop him from using the Infinity Stone to destroy the galaxy.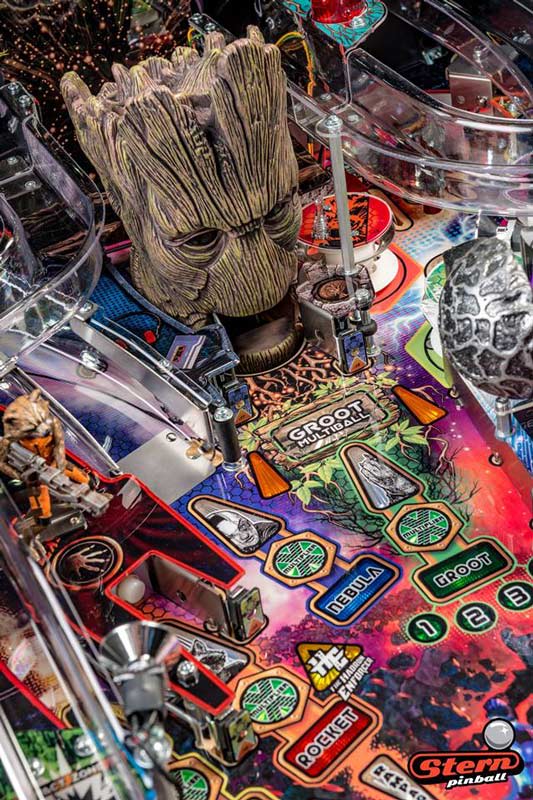 Stern's Guardians of the Galaxy Pro, Premium, and Limited Edition models are packed with features that provide an irresistible gameplay experience.  Each game features a sculpted and interactive ball-eating Groot, with a motorised jaw that locks balls for multiball action. In addition, a custom-sculpted Rocket figure will keep players on their toes as it blasts the ball back at rocket speed. Colour-changing inserts highlight the mysterious and interactive Orb, which opens to reveal the powerful Infinity Stone. The Limited Edition and Premium models also feature extra magnets, custom artwork, RGB lighting, and sculpted Groot arms that sprawl across the playfield.
The art for all three versions of this amazing pinball were created by Chris Franchi, known for his Batman artwork, and the original score music was composed by Ken Hale. The backbox-mounted LCD has fantastic graphics, utilising movie video and original art. Eight interactive game play modes will keep you coming back for another game time after time. The Limited Edition model also includes a mirrored backglass, art blades and a shaker motor.
Guardians of the Galaxy Pinball features the best of the franchise's sci-fi, humour and action.
Stern's Guardians of the Galaxy Pinball is available in three versions – The Pro Edition, the Premium Edition, the Limited Edition model.
Here is a sheet (PDF Format) that compares the features found on each game.
Guardians of the Galaxy Pro Pinball Machine
This fantastic pinball machine includes:
Groot bash toy with motorised jaw
Groot 4 ball lock mechanism
Static Rocket figurine
Orb toy with illuminated Infinity Stone
Drop target with trip coil virtual ball lock
Playfield magnet in the middle of the playfield to divert balls and create multiball chaos
Guardians of the Galaxy bar target
2 control gate divert mechanisms at top lanes
3 pop bumpers
5 Hadron Enforcer & 2 Groot stand-up targets
2 flippers
Two high-speed ramps that extend through the backpanel
4 flashing LED ramp mini mars domes
Ball scoop kickback
Illuminated vertical feature-billboard
Pro model exclusive theme full colour high definition decal material cabinet art
Pro model original themed translite
All models feature hand-drawn plastic art
All models feature exclusive art by Christopher Franchi
Snap-latch front moulding
RGB LED Hadron Enforcer (smart button) on front moulding
Traditional playfield rod supports
Powder-coated steel and wood backbox with colour themed T-moulding
Powder-coated black wrinkle finish legs, side armour, hinges and front lockdown moulding
Shot arrow RGB LED lighting
RGB LED lockdown moulding Hadron Enforcer (Smart Button)
General illumination LED lighting (white)
SPIKE-2 electronic system with switching power supply
Stereo High-Fidelity sound system with 3 channel amplifier
Separate treble and bass adjustment
CPU mounted line-out audio connector for external amplification
6 balls
Ball shooter with auto launch feature
Traditional coin door
Modular computer style cord
On Display in Our Showroom:
If you fancy checking out a new pinball machine, we have a fantastic selection on display in our showroom, set to free play, so you can enjoy a few games to get a feel for them for yourself.
Even if we don't have the exact game you are looking for set up in the showroom, we can talk you through all the options available to you, whether you're a pinball fanatic or looking for that single table to kickstart your own collection.
We recommend phoning our showrooms ahead of your visit so that we can give you a rundown of every machine we currently have on display to try.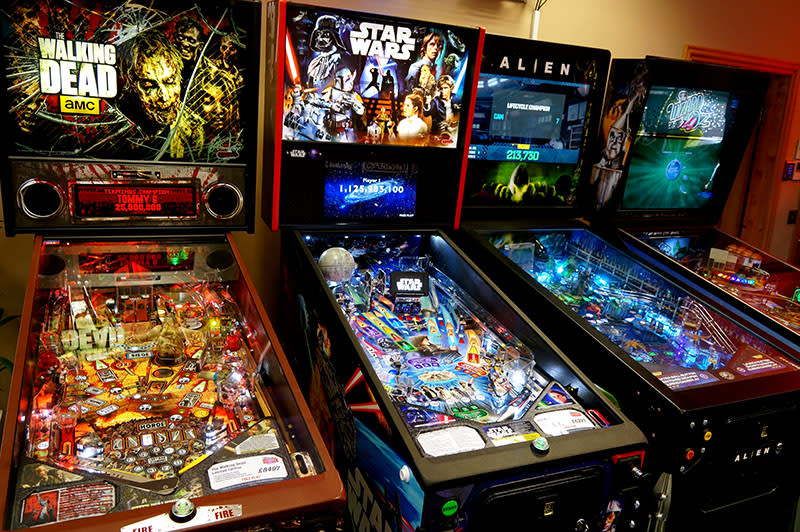 We are keen pinball enthusiasts and have experience of owning and playing a wide variety of pinball games. If you are looking for high quality impartial advice it is definitely worth paying us a visit. There's nothing like playing a few games to get a real appreciation of how good a game really is.
For more details see our Showroom page. For directions see our How to Find Us page.
Stern Guardians of the Galaxy Pro Measurements:
| | |
| --- | --- |
| Dimensions | |
| Height: | 75 1/2″ |
| Width: | 27″ |
| Length: | 55″ |
| Weight: | 250lbs |
Please ensure you fully check that a pinball of this size will fit into your intended location.
About Stern Pinball:
Stern Pinball, Inc. ("SPI") designs and manufactures arcade-quality pinball games. It is the only maker of arcade-quality pinball games in the world and is located just outside Chicago, Illinois.
The company traces its lineage to Philadelphia in the 1930s when Sam Stern got into the business of operating pinball games. These new games were all the rage in bars and restaurants, and game operators were making a very good living. Sam became so successful as an operator that he soon became a game distributor as well.
In 1947, Sam visited Williams Manufacturing Company in Chicago where, according to pinball industry folklore, he brazenly put his feet up on Harry Williams' desk and asked, "Why don't you sell me your company?" Because of Sam's success as an operator and distributor, it took Harry only three hours to decide to sell half of the company to Sam.
Sam moved to Chicago and became President of Williams. Through the '50's and '60's, he and Harry worked tirelessly to build Williams into one of the leaders in the burgeoning pinball industry.
Sam passed his passion for pinball on to his son, Gary, who as a child played in empty game boxes on the factory floor at Williams. Gary was only 16 years old in the 1960s when he started working for his father in the stock room at Williams.
The late 70s and early 80s saw the emergence of coin-operated video games.  As the coin-op market evolved, other companies acquired many of the existing pinball companies. In 1986, after the death of his father, Gary founded Data East Pinball, which was purchased by Sega in 1994 and became Sega Pinball. In 1999, Gary bought the business back from Sega and renamed it Stern Pinball, Inc. Less than a month later, Williams announced plans to cease pinball production in order to focus on the slot machine business.
Through the first decade of the new millennium, SPI has continued to carry the pinball banner and promote the game throughout the world. The company has released many popular games, including Pirates of the Caribbean, Indiana Jones, Shrek, Batman, Spiderman, The Simpsons Pinball Party and many more. Its games continue to be enjoyed by both pinball enthusiasts and casual players around the world.
Warranty:
Home Use:
This pinball machine comes with a 2 year parts warranty. All parts that are faulty will be replaced. Often we can solve any problems over the phone and supply any necessary components for the customer to fit. If necessary our specialist repairer can visit your home to inspect and repair your machine on-site, but this would be chargeable. Please call us for a call-out quotation. If parts are required which are not carried at the time these will need to be ordered for you, and will sometimes need to be imported from the States – therefore, there can be a wait for the part to arrive.
After our 2 year warranty has expired we will continue to offer you complete support for any problems you have, either over the phone or by email, and can provide a chargeable engineer call out should it be required. Whatever happens, we will be able to look after you and your pinball machine.
Pinball machines are complicated items, which don't like being moved about, nor do they like the cold or humidity. Therefore, if you chose to move the pinball machine from where we originally installed it, or it is stored in a cold or damp location, our warranty will become null and void. We won't be able to supply any parts for your machine free of charge if it has been accidentally damaged or you have tampered with it in any way.
Commercial Use:
We offer the same warranty as detailed above for our home customers, but for 30 days.