Description
The Stern Ghostbusters Pro Pinball Machine comes with free delivery, 2 year warranty and we have the lowest price for the Official UK version.
This fantastic addition to Stern's range of licensed pinball machines celebrates the classic Ghostbusters 80's films. Stern's Ghostbusters pinball features everything fans would expect in a pinball based on the films including the voice of Ernie Hudson as Winston Zeddemore, audio from the original film and Ray Parker Junior's Ghostbuster's theme tune!
We are now taking deposits to secure your machine on a first-come, first-served basis!
With only a £500 deposit, you can secure your brand new Ghostbusters Pro pinball machine. To pay your deposit, or to find out more information,
The stunning Pro version of the Ghostbusters pinball features artwork from renowned illustrator, Zombie Yeti, and is designed by John Trudea who is famous for his work within Creature from the Black Lagoon (Bally), Mustang (Stern) and Judge Dredd (Midway). Ernie Hudson helps you work your way through the levels and different challenges you face to become a member of the Ghostbusters, which is the main aim of the game.
The first Ghostbusters film was released in 1984 and after the success of the first film, a second in the series was released in 1989 and the duo were named as some of the highest grossing films released in the 80's! The 80's theme reflects in the very detailed, vibrant artwork created by Zombie Yeti and has an authentic day-glow 80's retro feel to it.
During gameplay, players are told that NYC has been invaded by a variety of ghostly apparations. Guided by Ernie Hudson, the player must collect the loose ghost spirits and complete various other challenges in order to work their way up the ranks to become an official member of the Ghostbusters team. Players can earn rewards along the way by hitting pop-bumpers, the 2 Scoleri Brothers targets and other features on the playfield.
Stern's Ghostbusters Pinball comes in three different versions – the Pro model, the Premium Edition and the Limited Edition models. For a .pdf comparing the three variants, please click here.
Stern Ghostbusters Pro Key Features:
Color-changing Stay Puft Marshmallow Man toy
Motorized animated interactive Slimer toy
Public Library butyrate
Storage Containment facility butyrate with 2 lights
Traditional mechanical slings
2 Pop-up Scoleri Brothers rollover drop targets
Subway ball eject
Bi-directional ramp
Triple Newton Ball "Public Library" feature
Single Newton Ball "Stacked Books" feature
Control gate
9 – stand-up targets
3 Pop Bumpers with LED lighting
7 Full Spectrum color-changing RGB LED's under playfield Arrow inserts
Spotlight illumination for the center playfield area
Stereo Hi-Fidelity sound system with 3 channel amplifier
Custom speech and narration by Ghostbusters actor Ernie Hudson a.k.a. "Winston Zeddemore"
Hit theme song "Ghostbusters" by Ray Parker Jr.
Please note that all photos are of an unreleased product, and are subject to final changes before release.
On Display in Our Showroom:
If you fancy checking out a new pinball machine, we have a fantastic selection on display in our showroom, set to free play, so you can enjoy a few games to get a feel for them for yourself.
Even if we don't have the exact game you are looking for set up in the showroom, we can talk you through all the options available to you, whether you're a pinball fanatic or looking for that single table to kickstart your own collection.
We recommend phoning our showrooms ahead of your visit so we can give you a rundown of every machine we currently have on display to try.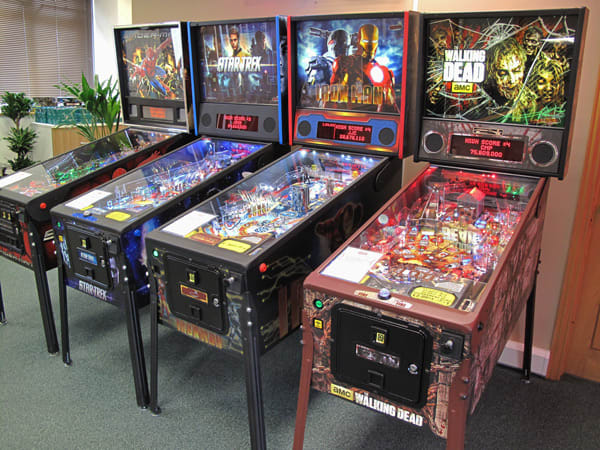 We are keen pinball enthusiasts and have experience of owning and playing a wide variety of pinball games. If you are looking for high quality impartial advice it is definitely worth paying us a visit. There's nothing like playing a few games to get a real appreciation of how good a game really is.
For more details see our Showroom page. For directions see our How to Find Us page.
Stern Ghostbusters Pro Measurements:
| | |
| --- | --- |
| Dimensions | |
| Height: | 75 1/2″ |
| Width: | 27″ |
| Length: | 55″ |
| Weight: | 250lbs |
Please ensure you fully check that a pinball of this size will fit into your intended location.
About Stern Pinball:
Stern Pinball, Inc. ("SPI") designs and manufactures arcade-quality pinball games.  It is the only maker of arcade-quality pinball games in the world and is located just outside Chicago, Illinois.
The company traces its lineage to Philadelphia in the 1930's when Sam Stern got into the business of operating pinball games.  These new games were all the rage in bars and restaurants, and game operators were making a very good living.  Sam became so successful as an operator that he soon became a game distributor as well.
In 1947, Sam visited Williams Manufacturing Company in Chicago where, according to pinball industry folklore, he brazenly put his feet up on Harry Williams' desk and asked, "Why don't you sell me your company?"  Because of Sam's success as an operator and distributor, it took Harry only three hours to decide to sell half of the company to Sam.
Sam moved to Chicago and became President of Williams.  Through the '50's and '60's, he and Harry worked tirelessly to build Williams into one of the leaders in the burgeoning pinball industry.
Sam passed his passion for pinball on to his son, Gary, who as a child played in empty game boxes on the factory floor at Williams.  Gary was only 16 years old in the 1960's when he started working for his father in the stock room at Williams.
The late '70's and early '80s saw the emergence of coin-operated video games.  As the coin-op market evolved, other companies acquired many of the existing pinball companies.  In 1986, after the death of his father, Gary founded Data East Pinball, which was purchased by Sega in 1994 and became Sega Pinball.   In 1999, Gary bought the business back from Sega and renamed it Stern Pinball, Inc.  Less than a month later, Williams announced plans to cease pinball production in order to focus on the slot machine business.
Through the first decade of the new millennium, SPI has continued to carry the pinball banner and promote the game throughout the world.  The company has released many popular games, including Pirates of the Caribbean, Indiana Jones, Shrek, Batman, Spiderman, the Simpsons Pinball Party and many more. Its games continue to be enjoyed by both pinball enthusiasts and casual players around the world.
Warranty:
Home Use:
This pinball machine comes with a 2 year parts warranty. All parts that are faulty will be replaced. Often we can solve any problems over the phone and supply any necessary components for the customer to fit. If necessary our specialist repairer can visit your home to inspect and repair your machine on-site, but this would be chargeable. Please call us for a call-out quotation. If parts are required which are not carried at the time these will need to be ordered for you, and will sometimes need to be imported from the States – therefore, there can be a wait for the part to arrive.
After our 2 year warranty has expired we will continue to offer you complete support for any problems you have, either over the phone or by email, and can provide a chargeable engineer call out should it be required. Whatever happens, we will be able to look after you and your pinball machine.
Pinball machines are complicated items, which don't like being moved about, nor do they like the cold or humidity. Therefore, if you chose to move the pinball machine from where we originally installed it, or it is stored in a cold or damp location, our warranty will become null and void. We won't be able to supply any parts for your machine free of charge if it has been accidentally damaged or you have tampered with it in any way.
Commercial Use:
We offer the same warranty as detailed above for our home customers, but for 30 days.