Description
The Stern Game of Thrones Premium Pinball Machine comes with free delivery, and we have the lowest price for the Official UK version.
This fantastic addition to Stern's range of licensed pinball machines celebrates HBO's Game of Thrones, based on the books by George R.R. Martin and quickly becoming one of the most popular television shows of all time. Stern's Game of Thrones pinball features everything fans would want in a pinball version of Westeros, chronicling the power struggles among noble families fighting for control of the Iron Throne of the Seven Kingdoms.
This amazing Premium version of Game of Thrones Pinball features a massive and challenging Castle upper playfield with a second set of full size flippers, shots and an animated Dragon. It incorporates dazzling, full-playfield, color-changing LED's throughout the game, and an Elevator serving two "floors" which brings the ball up to the Castle where the players battle against Houses and Dragons. The second Elevator floor delivers the ball to the Iron Throne, where victories great and small can be celebrated.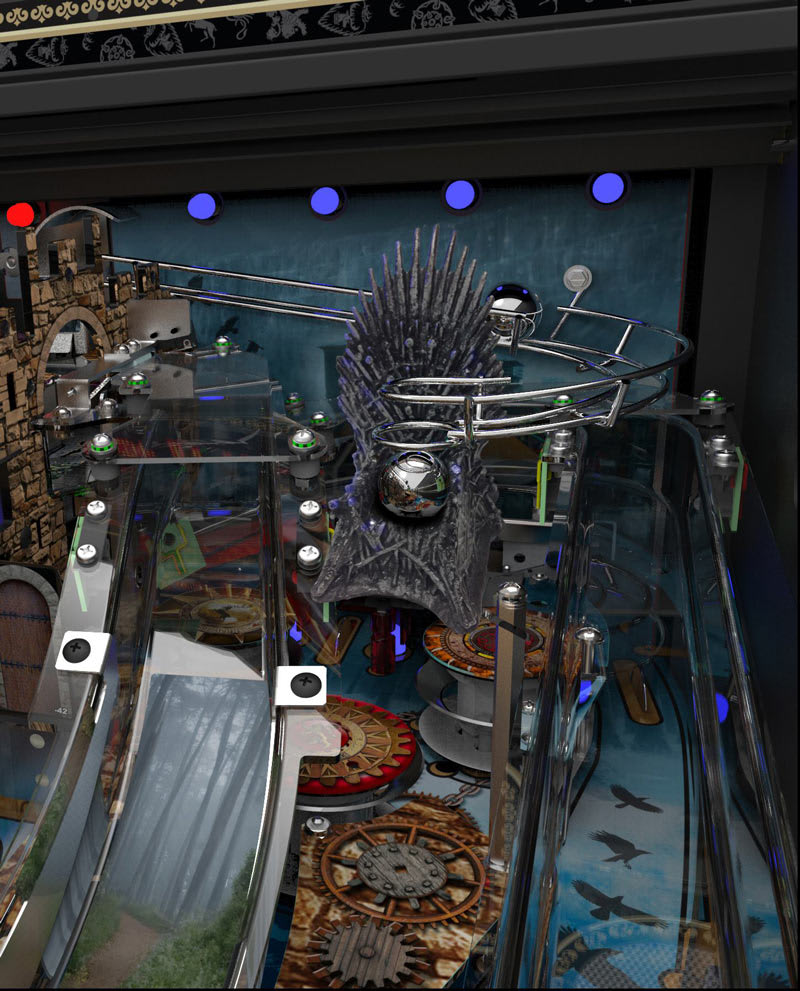 Since its first broadcast in 2011, Game of Thrones has taken the fantasy genre by storm, depicting a world of magic, dragons, swords and intrigue. Winning dozens of awards and inspiring countless fans, Game of Thrones is now the theme for Stern's latest pinball creation. Players choose one of the iconic houses – Stark, Lannister, Greyjoy, Baratheon, Martell or Tyrell – to represent as a knight in a bid to rule Westeros.
During play, players can win valuable random awards and features with Reel Pops, by playing the Pop Bumpers and spinning three virtual spinning reels on the display. When three identical symbols line up, the player is awarded the prize shown on the reels. Earn gold and spend it on needed weapons and features. An Action Button is featured on the front molding, for the largest array of interactive play features ever seen in a pinball machine.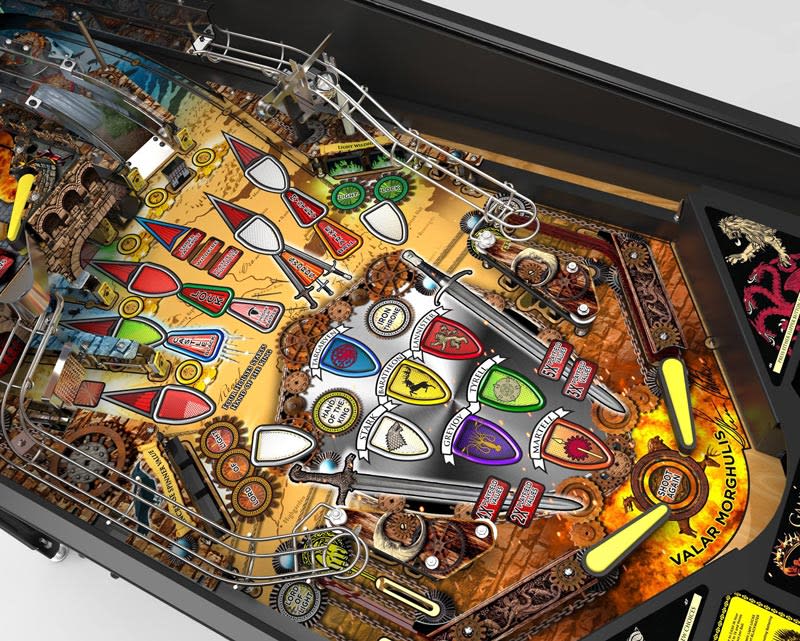 Game of Thrones Pinball comes in three different versions – the Pro model, the Premium Edition and the Limited Edition variant which is made in strictly limited numbers. For a .pdf comparing the three models, please click here.
Stern Game of Thrones Premium Key Features:
Experience the greatest epic Game of Thrones battles in a World Under Glass
Custom speech and narration by GoT actor Rory McCann as Sandor Clegane, aka "The Hound"
Game of Thrones theme song and many more original songs
Players choose to be a Knight of the Stark, Lannister, Greyjoy, Baratheon, Martell, or Tyrell family houses Players choose other houses to battle and include stacking battle choices for twice the challenge
Players strive to rule the Seven Kingdoms of Westeros
Motorised animated interactive Dragon toy
Exciting Sword Fight display mode
Castle Upper Playfield with 2 Flippers, Loop Shot, 3 .5″ Targets, 2 Drop-Off Lanes and Moon Door
Castle Upper Playfield includes unique rules, Castle Multiball, and other surprises
Battering Ram sliding Bash Target smashes Castle Gate for playfield multipliers, wildfire, super jackpots
"The Wall" Elevator Vuk delivers the ball to Upper Playfield, or the "Iron Throne"
Sword of Multiball Swinging Sword Device
White Walker Kickback fires ball back at players in anger
Spinning Target with Sync-FlashTM Super Bright Flasher
2 Electric Gates
2 Superspeed Ramps
1 x 1.5″ Custom Castle Gate Stand Up target
5 x 0.5″ Stand Up Targets
3 Bank Drop Targets
2 Bank of 1.5″ Stand Up targets
Left plastic ramp feeds to chrome right wire ramp, Sword of Multiball, and right flipper return lane
Right plastic ramp feeds to Upper Playfield and connects to chrome left wire ramp, then to left return lane
Blade Diverter shuttles ball around the Right Orbit Shot, or into Elevator Entrance
Iron Throne Toy with flasher holds and ejects balls
4 New Drive Concept "No Buzz" Quiet Flippers
Single Resettable Drop Target guards the ramp leading to the Castle
3 Pop Bumpers with Full Spectrum color-changing RGB LED lighting
63 Full Spectrum color-changing RGB LED's under ALL inserts
All LED general illumination
Super Powerful Full Spectrum color-changing RGB LED Floodlights on Upper Playfield
Unique Art by Greg Freres and Steven Martin featuring "The North" themed Translite Backglass
Full Color High Definition decal material cabinet art featuring Key Characters, Castle Black, and Hardhome
Snap Latch Lockdown bar
Powder coated steel and plywood backbox with color themed t-molding
Black Wrinkle powder coated legs, armor, hinges, front molding
Playfield slide support and brackets
New SPIKE electronic system
High-efficiency switching power-supply for consistent performance in all line conditions
Stereo Hi-Fidelity sound system with 3 channel amplifier
Separate treble and bass adjustment
New CPU mounted line-out audio connector for external amplification
4 Balls
Traditional Coin Door
Easy-to-Follow game rules for casual players, with depth for experts
Modular computer style cord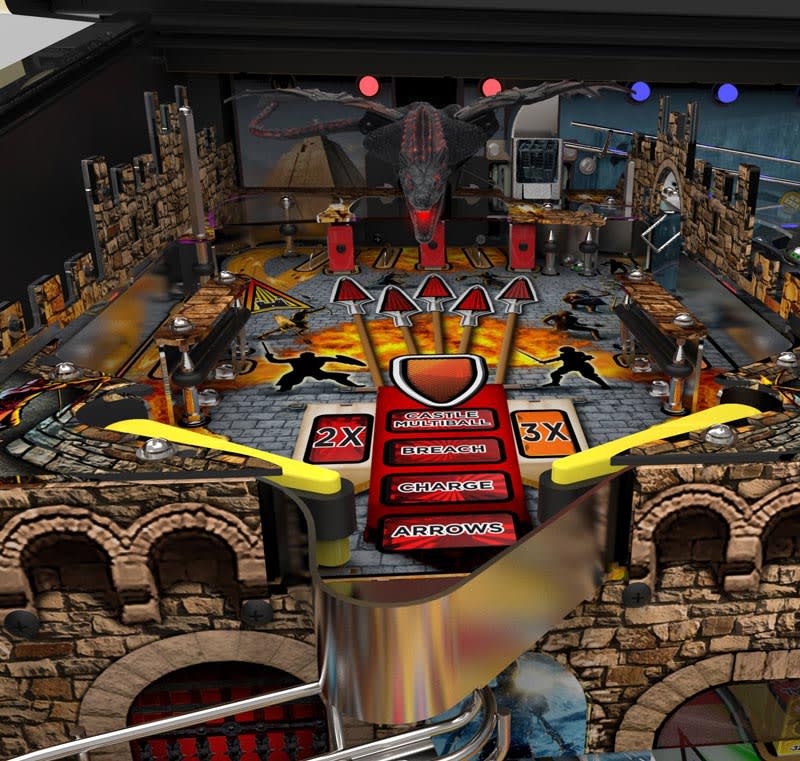 Please note that all photos are of an unreleased product, and are subject to final changes before release.
On Display in Our Showroom: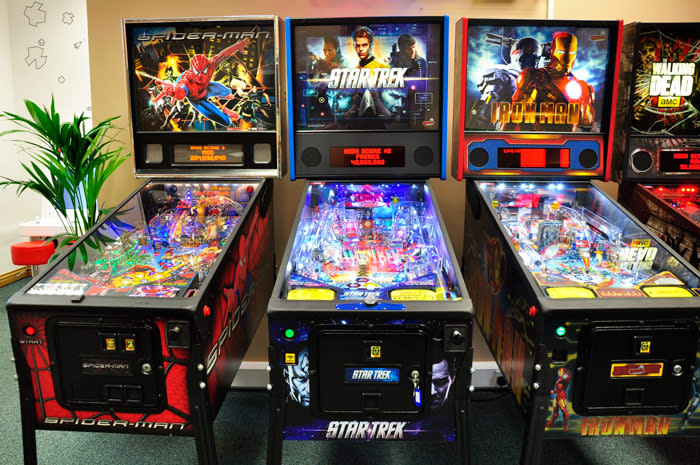 If you fancy checking out a new Stern pinball machine, we have the Star Trek Pro Pinball Machine on display in our showroom, set to freeplay, so you can enjoy a few games to get the feel for it for yourself.
Even if this isn't the Stern game you are looking for, you can really get a sense of the quality of make that Stern build their machines to, and the standard you can expect from this world renowned manufacturer.
We can guide you through the service menus and gameplay options. There are lots of different settings you can employ to change the way the game plays, such as how many balls you would like per go. There are also a number of test modes to be able to check functions and test the bulbs.
We are keen pinball enthusiasts and have experience of owning and playing a wide variety of pinball games. If you are looking for high quality impartial advice it is definitely worth paying us a visit.
For more details see our Showroom page. For directions see our How to Find Us page.
Stern Game of Thrones Pro Measurements:
| | |
| --- | --- |
| Dimensions | |
| Height: | 75 1/2″ |
| Width: | 27″ |
| Length: | 55″ |
| Weight: | 250lbs |
Please ensure you fully check that a pinball of this size will fit into your intended location.
About Stern Pinball:
Stern Pinball, Inc. ("SPI") designs and manufactures arcade-quality pinball games.  It is the only maker of arcade-quality pinball games in the world and is located just outside Chicago, Illinois.
The company traces its lineage to Philadelphia in the 1930's when Sam Stern got into the business of operating pinball games.  These new games were all the rage in bars and restaurants, and game operators were making a very good living.  Sam became so successful as an operator that he soon became a game distributor as well.
In 1947, Sam visited Williams Manufacturing Company in Chicago where, according to pinball industry folklore, he brazenly put his feet up on Harry Williams' desk and asked, "Why don't you sell me your company?"  Because of Sam's success as an operator and distributor, it took Harry only three hours to decide to sell half of the company to Sam.
Sam moved to Chicago and became President of Williams.  Through the '50's and '60's, he and Harry worked tirelessly to build Williams into one of the leaders in the burgeoning pinball industry.
Sam passed his passion for pinball on to his son, Gary, who as a child played in empty game boxes on the factory floor at Williams.  Gary was only 16 years old in the 1960's when he started working for his father in the stock room at Williams.
The late '70's and early '80s saw the emergence of coin-operated video games.  As the coin-op market evolved, other companies acquired many of the existing pinball companies.  In 1986, after the death of his father, Gary founded Data East Pinball, which was purchased by Sega in 1994 and became Sega Pinball.   In 1999, Gary bought the business back from Sega and renamed it Stern Pinball, Inc.  Less than a month later, Williams announced plans to cease pinball production in order to focus on the slot machine business.
Through the first decade of the new millennium, SPI has continued to carry the pinball banner and promote the game throughout the world.  The company has released many popular games, including Pirates of the Caribbean, Indiana Jones, Shrek, Batman, Spiderman, the Simpsons Pinball Party and many more. Its games continue to be enjoyed by both pinball enthusiasts and casual players around the world.
Warranty:
Home Use:
This pinball machine comes with a 2 year parts warranty. All parts that are faulty will be replaced. Often we can solve any problems over the phone and supply any necessary components for the customer to fit. If necessary our specialist repairer can visit your home to inspect and repair your machine on-site, but this would be chargeable. Please call us for a call-out quotation. If parts are required which are not carried at the time these will need to be ordered for you, and will sometimes need to be imported from the States – therefore, there can be a wait for the part to arrive.
After our 2 year warranty has expired we will continue to offer you complete support for any problems you have, either over the phone or by email, and can provide a chargeable engineer call out should it be required. Whatever happens, we will be able to look after you and your pinball machine.
Pinball machines are complicated items, which don't like being moved about, nor do they like the cold or humidity. Therefore, if you chose to move the pinball machine from where we originally installed it, or it is stored in a cold or damp location, our warranty will become null and void. We won't be able to supply any parts for your machine free of charge if it has been accidentally damaged or you have tampered with it in any way.
Commercial Use:
We offer the same warranty as detailed above for our home customers, but for 30 days