Description
The Doctor Who Pinball Machine comes with Free Delivery and Installation (worth £150), it is in fully working condition and has been serviced to ensure it plays with no errors.
(Video shows a previous machine. New video coming soon.)
The Doctor Who Pinball Machine was manufactured by Bally Midway, makers of some of the greatest pinball machines in history.
This fantastic machine will make a great addition to any pinball arcade or collection. Players collect all seven Doctors (this machine was made in 1992, when Sylvester McCoy was the latest Doctor) and each affects the rules of the playfield differently, making different bonuses easier to collect or increasing multipliers, for example. Doctor Who is a fantastic machine, though the complicated set of rules affected its popularity. This made it even more of a collector's piece, however, and it is highly sought-after by many pinball aficionados.
Doctor Who is a fast-flowing, exciting pinball game in which you must collect the Doctors and open the Time Expander, racing to defeat The Master, Davros and the infamous Daleks!
Features:
Time Expander: Lock two balls on this time-distorting mini-playfield, restore Earth's time to Normal Factor 0 by lighting 15 coloured lamps, and start Multi-Ball to earn Dalek Jackpots and Davros Super Jackpots
W-H-O: Complete the W-H-O sequence to earn millions of extra points and an extra ball
Playfield Multiplier: Build your score with the looping cliffhanger ramp
TARDIS Model: Watch your ball emerge from the doors of The Doctor's trusty time machine.
Seven Doctors: Likenesses of William Hartnell, Patrick Troughton, Jon Pertwee, Tom Baker, Peter Davison, Colin Baker and Sylvester McCoy all appear, as well as Sylvester McCoy and Anthony Ainley's voices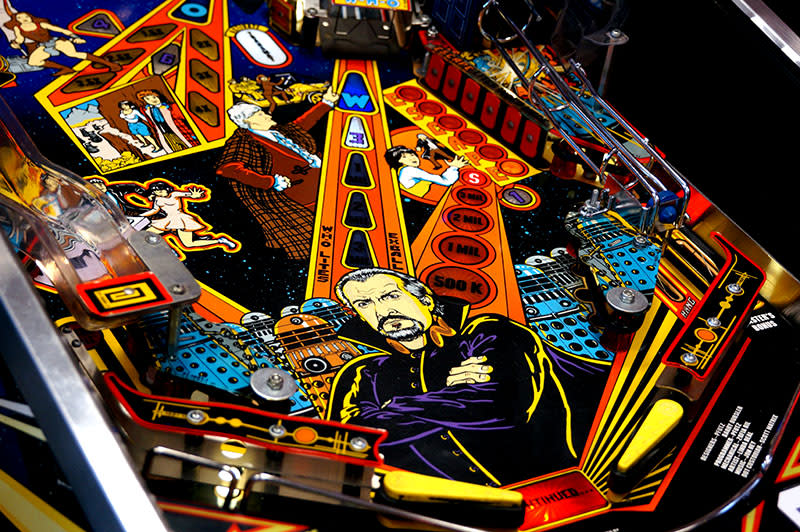 Condition:
This Doctor Who machine has spent the majority of its lifeon location, meaning the game does have some cosmetic wear and tear. The game's cabinet has fading typical of Doctor Who machines, and the playfield has wear in places (as pictured) namely around the Time Expander area.
Some machines we sell are fully restored, where we will fit new decals, new playfields, new parts such as ramps, and even upgrade certain items, such as the sound components. Where this type of reconditioning process has been undertaken we will make it absolutely clear that this is the case and the price will reflect the amount of time taken and costs incurred in this process.
This pinball machine has seen some use in its time, though it is still in excellent condition considering its age. We aim to be honest about the condition of our pinball machines and would not sell them if we thought they were in need of further restoration, but the Doctor Who Pinball Machine is in a good condition for its age.
Reconditioning and Servicing – 26 Point Checklist:
Buying a pinball can be a lot like buying a car: there can be problems underneath the bonnet that you wouldn't even know about, until they interrupt your fun!
It's worth noting that pinball machines are complicated in their workings. There are pitfalls to buying a second hand pinball machine elsewhere, and if you don't know what to look for, you can have an incomplete machine running at less than its potential. Furthermore, you could purchase a machine that is 20-30 years old and has a serious electrical fault.
However, every machine that comes through our doors undergoes an extensive 26-point check with our trained engineer. This service is exclusive to every pinball we sell at Home Leisure Direct. All machines undergo a full PAT test by a fully qualified engineer to eliminate any risk. We also check everything including the lighting, coils, flippers, full mechanics, electronics and everything else in between. These checks ensure that all components are rigorously tested and working.
This even includes cosmetic touch ups and a full wax clean. We complete this 26-point check to ensure your new pinball machine is in tip-top working order and ready to spend a new life with its new owner.
On Display in Our Showroom: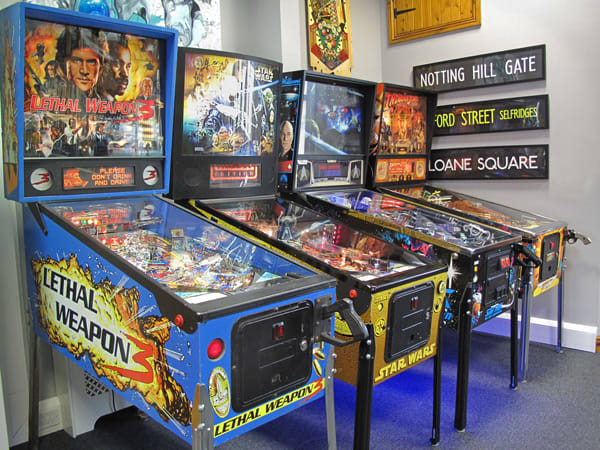 If you'd like to try out a classic pinball machine, we have a vast collection of over 15 different classic titles from various big pinball manufacturers like Bally, Williams and Data East on display in the showroom. All of these games are set up and set to free play for you to try for yourself. Even if we don't have the exact machine you're looking for, we can recommend other games that may play similarly.
We recommend phoning our showrooms ahead of your visit so we can give you a rundown of every machine we currently have on display to try.
We are keen pinball enthusiasts and have experience of owning and playing a wide variety of pinball games. If you are looking for high quality impartial advice it is definitely worth paying us a visit. There's nothing like playing a few games to get a real appreciation of how good a game really is.
For more details see our Showroom page. For directions see our How to Find Us page.
Pinball Table Measurements:
| | |
| --- | --- |
| Dimensions | |
| Height: | 84″ |
| Width: | 27″ |
| Depth: | 31″ |
| Weight: | 118kg |
Please ensure you fully check that a pinball of this size will fit into your intended location.
Coin Mechanism:
We sell our restored, reconditioned and used products to home users. As a result, a functioning coin mechanism is not necessary, because the machine can just be set to freeplay. Many of the coin mechanisms are configured to take foreign coins or denominations which are no longer in circulation; therefore it can be difficult to actually find a coin to use in it.
Therefore we sell all these types of products as freeplay only, with the coin mechanism either not working or disconnected. You may find that it does in fact work fine, or will do so with a little WD40 and kind attention, as many won't have been used for years.
Warranty:
Home Use:
This pinball machine comes with a 1 year parts warranty. All parts that are faulty will be replaced. Often we can solve any problems over the phone and supply any necessary components for the customer to fit. If necessary our specialist repairer can visit your home to inspect and repair your machine on-site, but this would be chargeable. Please call us for a call-out quotation. If parts are required which are not carried at the time these will need to be ordered for you, and will sometimes need to be imported from the States – therefore, there can be a wait for the part to arrive.
After our 1 year warranty has expired we will continue to offer you complete support for any problems you have, either over the phone or by email, and can provide a chargeable engineer call out should it be required. Whatever happens, we will be able to look after you and your pinball machine.
Pinball machines are complicated items, which don't like being moved about, nor do they like the cold or humidity. Therefore, if you chose to move the pinball machine from where we originally installed it, or it is stored in a cold or damp location, our warranty will become null and void. We won't be able to supply any parts for your machine free of charge if it has been accidentally damaged or you have tampered with it in any way.
Commercial Use:
Where a used/secondhand/reconditioned item is not being used in a home, but is instead being placed in a commercial location such as a bar, pub, cafe, restaurant, bowling alley, trampoline park, youth club, office, factory, or similar, we will offer a 30 day on-site service warranty should any problems occur which are not a result of any misuse or malicious damage. This warranty will cover parts and labour.