Description
The Black Rose Pinball Machine comes with Free Delivery and Installation (worth £150), it has been serviced and is in fully working condition.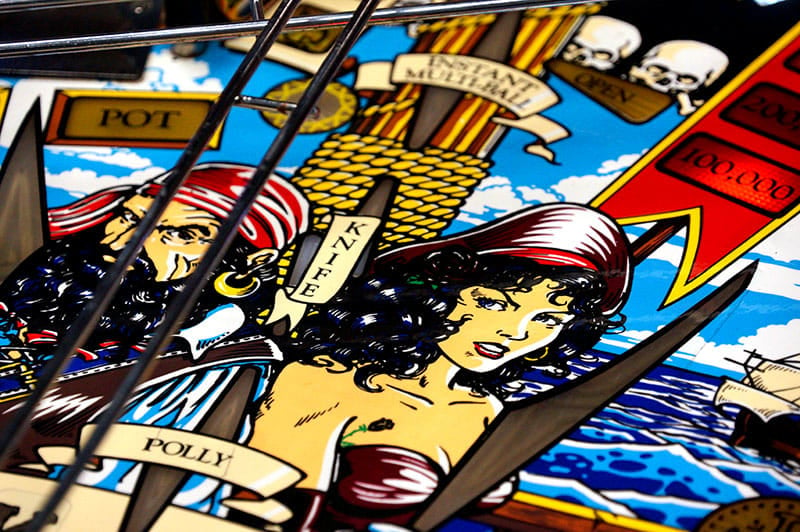 "Now send them to Davey Jones!!!"
The Black Rose Pinball Machine was manufactured by Bally Midway, makers of some of the greatest pinball machines in history. This fantastic machine will make a great addition to any pinball arcade or collection. Sail alongside one of the most feared pirates on the waves – Black Rose: The Queen of the High Seas.
The playfield is full of swashbucking attractions for you to test your skills. You'll find a spiralling whirlpool ramp, hidden rewards in Pirate's Cove, an imposing broadside shot that will fire shots right back to the player, and the incredibly innovative under-playfield cannon. Load this cannon, and make shots to the ship's broadside to sink it, further building your reputation as the most feared pirate of the waters.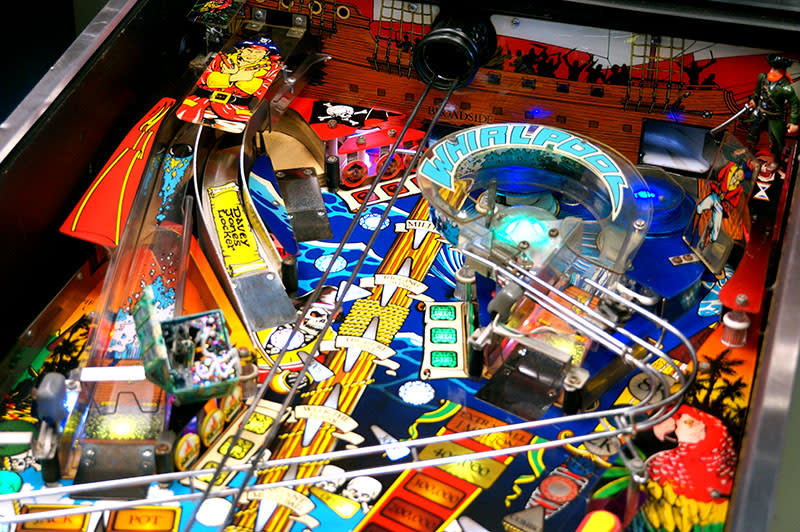 Features:
3 Flippers, 3 Pop Bumpers, 3 Ramps, 3 x 3-Bank Standup Targets
Under-playfield ball cannon – Take aim with this unique playfield cannon that launches balls from underneath the playfield at shots.
Broadside Cannon – Watch balls fire directly at you from the rear ship, landing neatly at your right flipper.
Davey Jones' Locker – This mechanically raised and lowered ramp is your entry to the canon. Repeat the shot and load the canon faster.
3 Video Modes – Claim several rewards from testing your speed and timing in one of three video modes. Swing from the Rigging, Knife Throwing or escaping sharks in Walk The Plank.
2 and 3 Ball Multiball Modes – Search for hidden treasure in the game's fast and frantic multiball mode.
LED Upgraded – The game shines with the addition of an LED upgrade.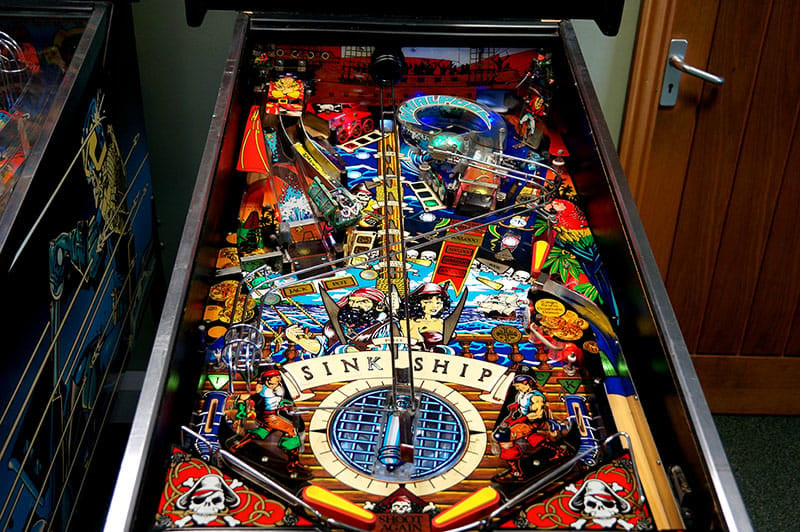 Condition:
The playfield and ramps on this pinball machine are in good condition, with only very minimal insert wear in the middle of the playfield. The cabinet has some wear to the artwork (namely on the coin door and right side) but the artwork remains vibrant and colourful. The game shines from a playfield LED upgrade, additional playfield models (like a pirate figure and treasure chest) and a custom Black Rose shooter handle.
This pinball machine has seen some use in its time, though it is still in great condition considering its age.
Some machines we sell are fully restored, where we will fit new decals, new playfields, new parts such as ramps, and even upgrade certain items, such as the sound components. Where this type of reconditioning process has been undertaken we will make it absolutely clear that this is the case and the price will reflect the amount of time taken and costs incurred in this process.
Black Rose Pinball Table Measurements:
Please ensure you fully check that a pinball of this size will fit into your intended location and that it will fit through your doorways and corridors to reach your intended destination.
| | |
| --- | --- |
| Dimensions | |
| Height: | 78″ |
| Width: | 29″ |
| Depth: | 55″ |
| Weight: | 118kg |
Coin Mechanism:
We sell our restored, reconditioned and used products to home users where a functioning coin mechanism is not necessary. Therefore we sell all these types of products as freeplay only, with the coin mechanism either not working or disconnected.
You may find that the coin machanism does work, or will do so with a little WD40 and kind attention, as many won't have been used for years, but many are configured to take foreign coins or denominations which are no longer in circulation; it can therefore be difficult to find the correct coin to use in it.
On Display in Our Showroom:
If you'd like to try out a classic pinball machine, we have a vast collection of over 15 different classic titles from various big pinball manufacturers like Bally, Williams and Data East on display in the showroom. All of these games are set up and set to free play for you to try for yourself. Even if we don't have the exact machine you're looking for, we can recommend other games that may play similarly.
We recommend phoning our showrooms ahead of your visit so we can give you a rundown of every machine we currently have on display to try.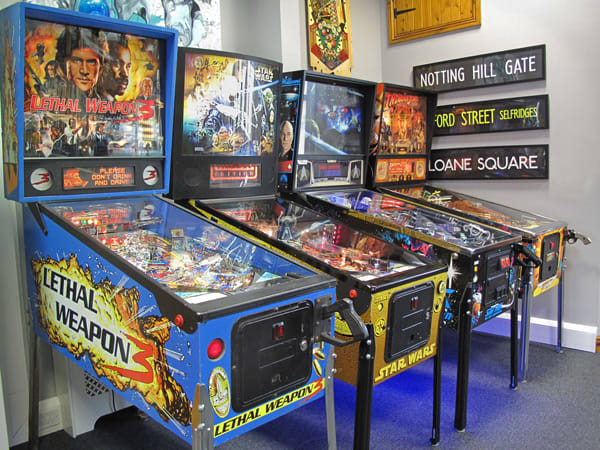 We are keen pinball enthusiasts and have experience of owning and playing a wide variety of pinball games. If you are looking for high quality impartial advice it is definitely worth paying us a visit. There's nothing like playing a few games to get a real appreciation of how good a game really is.
For more details see our Showroom page. For directions see our How to Find Us page.
Warranty:
Home Use:
This pinball machine comes with a 1 year parts warranty. All parts that are faulty will be replaced. Often we can solve any problems over the phone and supply any necessary components for the customer to fit. If necessary our specialist repairer can visit your home to inspect and repair your machine on-site, but this would be chargeable. Please call us for a call-out quotation. If parts are required which are not carried at the time these will need to be ordered for you, and will sometimes need to be imported from the States – therefore, there can be a wait for the part to arrive.
After our 1 year warranty has expired we will continue to offer you complete support for any problems you have, either over the phone or by email, and can provide a chargeable engineer call out should it be required. Whatever happens, we will be able to look after you and your pinball machine.
Pinball machines are complicated items, which don't like being moved about, nor do they like the cold or humidity. Therefore, if you chose to move the pinball machine from where we originally installed it, or it is stored in a cold or damp location, our warranty will become null and void. We won't be able to supply any parts for your machine free of charge if it has been accidentally damaged or you have tampered with it in any way.
Commercial Use:
Where a used/secondhand/reconditioned item is not being used in a home, but is instead being placed in a commercial location such as a bar, pub, cafe, restaurant, bowling alley, trampoline park, youth club, office, factory, or similar, we will offer a 30 day on-site service warranty should any problems occur which are not a result of any misuse or malicious damage. This warranty will cover parts and labour.