Description
The Black Knight: Sword of Rage Pro Pinball Machine by Stern Pinball comes with free delivery, 2 year warranty and we have the lowest price for the Official UK version.
(More photographs of this product are coming soon)
Do YOU have the power to fight back? STERN Pinball delves back into pinball history to revisit one of pinball's most iconic characters – The Black Knight! Pinball fans will need little introduction to The Black Knight. Appearing in his first runaway pinball success in 1980 in Black Knight, and then again in 1989 with the lightning fast Black Knight 2000 in 1989, The Black Knight makes a return after 30 years in Stern Pinball's Black Knight: Sword of Rage.
Returning to deliver the third game in this unmissable pinball trilogy is Steve Ritchie, responsible for many of pinball's most iconic games including the original Black Knight games from the 80s. Players must once again cross blades with the evil Black Knight and defeat each of his challenges. Now armed with a modern playfield fit for a king and of course the Sword of Rage, players must defeat the Black Knight on his own territory once again, preventing him from terrorising the land.
Black Knight: Sword of Rage Key Features
You've got the power: Activate the Magna-save ability from a player controlled button on the lockdown bar – a callback to classic Black Knight games that uses a magnet to save your ball from draining.
You've got the might: Claim one of many awards from the new Lightning Wheel – another returning feature from Black Knight 2000 that will buff your game with all manner of different rewards.
Get ready for battle: Incredible sound on the game is delivered by lead guitarist from Anthrax: Scott Ian, who has lent his incredible talents to produce the game's music.
Beat the Black Knight: The Black Knight himself stands in the centre of the playfield with his spinning flail and moving shield that will block shots and react to your play.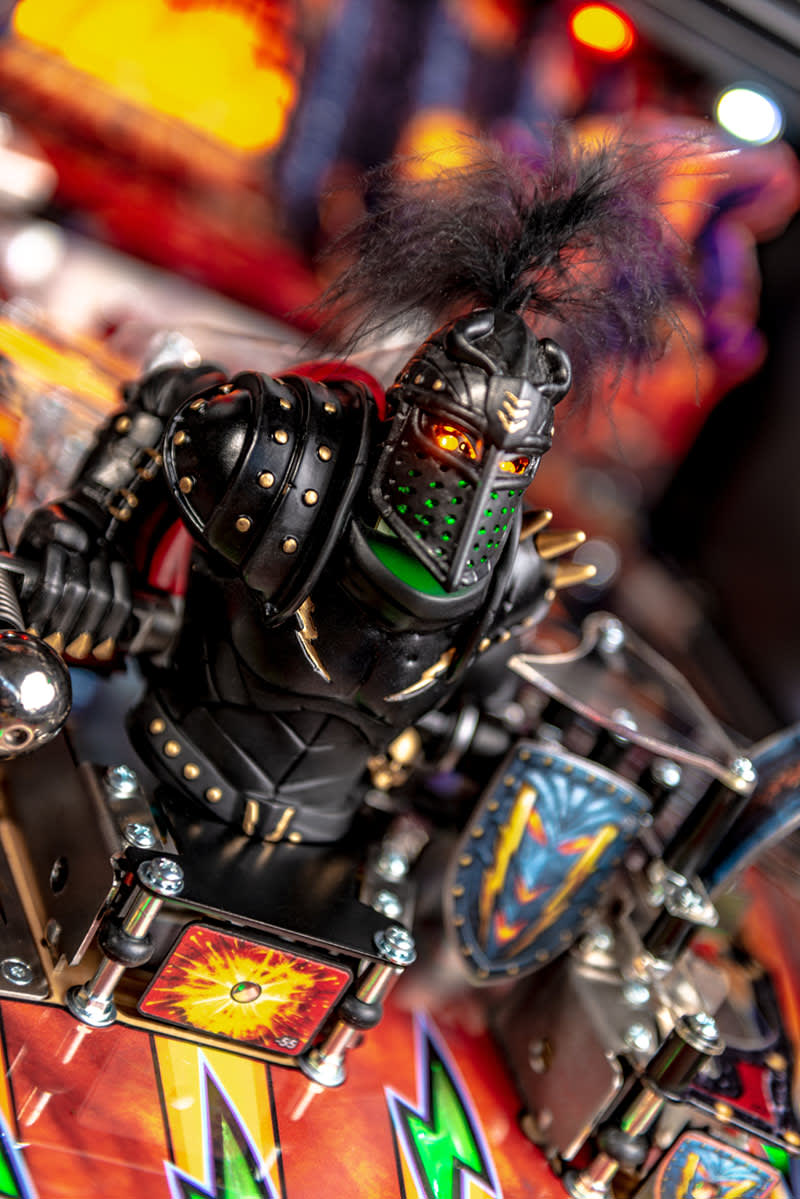 The Pro version of Black Knight: Sword of Rage puts players of all skill levels to the ultimate test, giving pinball lovers the world over a return to this iconic character who has since become a character synonymous with the silver ball.
Stern's Black Knight: Sword of Rage Pinball is available in three versions – The Pro Edition, the Premium Edition, the Limited Edition model. A sheet comparing these models can be seen here:
Black Knight: Sword of Rage Features Matrix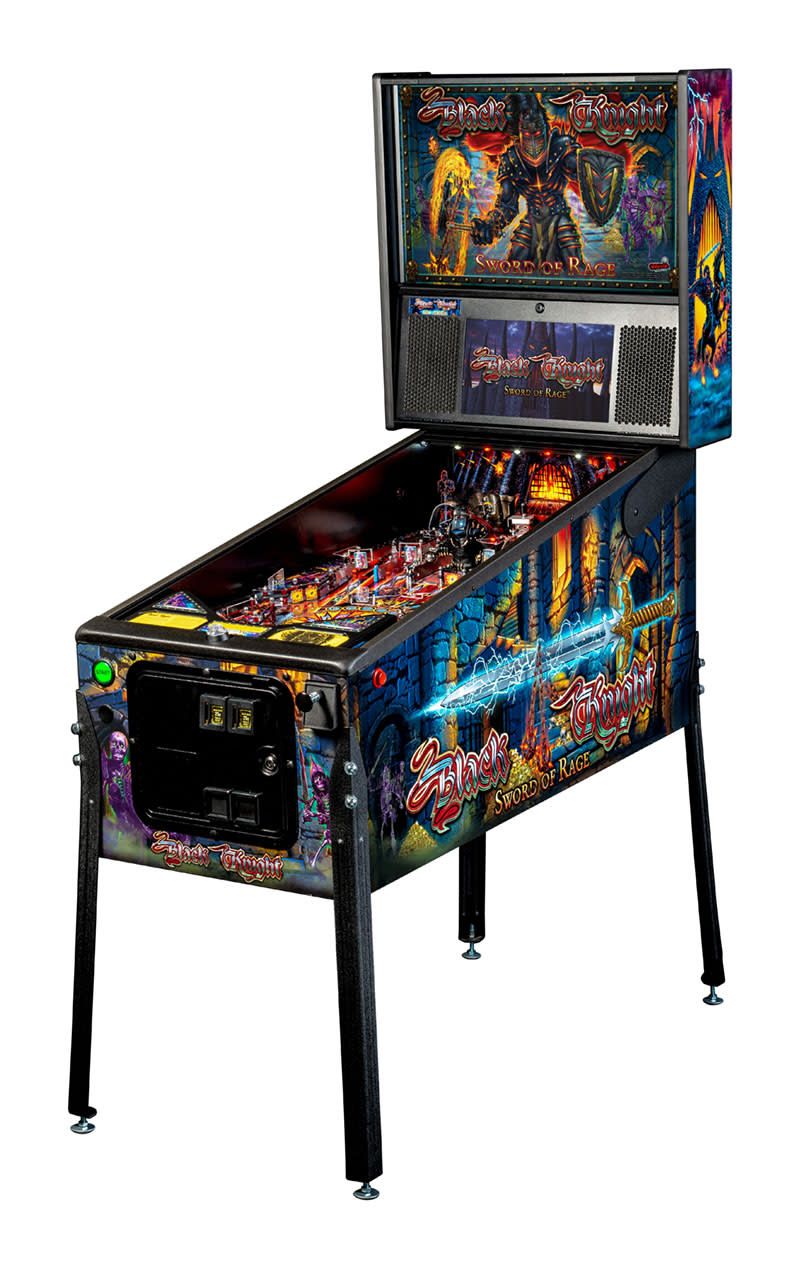 On Display in Our Showroom:
If you fancy checking out a new pinball machine, we have a fantastic selection on display in our showroom, set to free play, so you can enjoy a few games to get a feel for them for yourself.
Even if we don't have the exact game you are looking for set up in the showroom, we can talk you through all the options available to you, whether you're a pinball fanatic or looking for that single table to kickstart your own collection.
We recommend phoning our showrooms ahead of your visit so we can give you a rundown of every machine we currently have on display to try.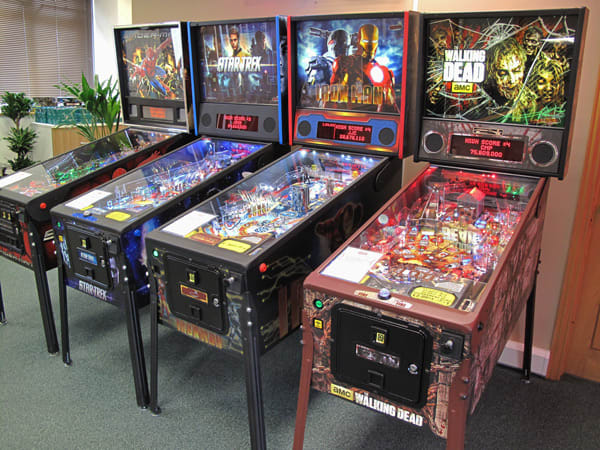 We are keen pinball enthusiasts and have experience of owning and playing a wide variety of pinball games. If you are looking for high quality impartial advice it is definitely worth paying us a visit. There's nothing like playing a few games to get a real appreciation of how good a game really is.
For more details see our Showroom page. For directions see our How to Find Us page.
Black Knight: Sword of Fury Pro Pinball Measurements:
| | |
| --- | --- |
| Dimensions | |
| Height: | 75 1/2″ |
| Width: | 27″ |
| Length: | 55″ |
| Weight: | 250lbs |
Please ensure you fully check that a pinball of this size will fit into your intended location.
About Stern Pinball:
Stern Pinball, Inc. ("SPI") designs and manufactures arcade-quality pinball games.  It is the only maker of arcade-quality pinball games in the world and is located just outside Chicago, Illinois.
The company traces its lineage to Philadelphia in the 1930's when Sam Stern got into the business of operating pinball games.  These new games were all the rage in bars and restaurants, and game operators were making a very good living.  Sam became so successful as an operator that he soon became a game distributor as well.
In 1947, Sam visited Williams Manufacturing Company in Chicago where, according to pinball industry folklore, he brazenly put his feet up on Harry Williams' desk and asked, "Why don't you sell me your company?"  Because of Sam's success as an operator and distributor, it took Harry only three hours to decide to sell half of the company to Sam.
Sam moved to Chicago and became President of Williams.  Through the '50's and '60's, he and Harry worked tirelessly to build Williams into one of the leaders in the burgeoning pinball industry.
Sam passed his passion for pinball on to his son, Gary, who as a child played in empty game boxes on the factory floor at Williams.  Gary was only 16 years old in the 1960's when he started working for his father in the stock room at Williams.
The late '70's and early '80s saw the emergence of coin-operated video games.  As the coin-op market evolved, other companies acquired many of the existing pinball companies.  In 1986, after the death of his father, Gary founded Data East Pinball, which was purchased by Sega in 1994 and became Sega Pinball.   In 1999, Gary bought the business back from Sega and renamed it Stern Pinball, Inc.  Less than a month later, Williams announced plans to cease pinball production in order to focus on the slot machine business.
Through the first decade of the new millennium, SPI has continued to carry the pinball banner and promote the game throughout the world.  The company has released many popular games, including Pirates of the Caribbean, Indiana Jones, Shrek, Batman, Spiderman, the Simpsons Pinball Party and many more. Its games continue to be enjoyed by both pinball enthusiasts and casual players around the world.
Warranty:
Home Use:
This pinball machine comes with a 2 year parts warranty. All parts that are faulty will be replaced. Often we can solve any problems over the phone and supply any necessary components for the customer to fit. If necessary our specialist repairer can visit your home to inspect and repair your machine on-site, but this would be chargeable. Please call us for a call-out quotation. If parts are required which are not carried at the time these will need to be ordered for you, and will sometimes need to be imported from the States – therefore, there can be a wait for the part to arrive.
After our 2 year warranty has expired we will continue to offer you complete support for any problems you have, either over the phone or by email, and can provide a chargeable engineer call out should it be required. Whatever happens, we will be able to look after you and your pinball machine.
Pinball machines are complicated items, which don't like being moved about, nor do they like the cold or humidity. Therefore, if you chose to move the pinball machine from where we originally installed it, or it is stored in a cold or damp location, our warranty will become null and void. We won't be able to supply any parts for your machine free of charge if it has been accidentally damaged or you have tampered with it in any way.
Commercial Use:
We offer the same warranty as detailed above for our home customers, but for 30 days.